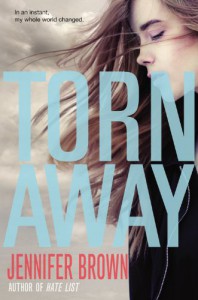 Title: Torn Away
Author: Jennifer Brown
Genre: Young Adult
Publisher: Little Brown Books for Young Readers
Publication Date: May 6, 2014
Format: Egalley from Netgalley.com
Thank you Little Brown Books for Young Readers via Netgalley for providing me with an early copy of this book!
My rating: 5 of 5 stars
My review (originally published at Read, Run, Ramble):
Right off the bat, I want to address something I've seen in a few other reviews.

I've seen a couple that expressed disappointment for how unrealistic the book was after Jersey experienced her first tragedy. These reviewers felt that after going through such a terrible experience that then going through more ridiculous crap wasn't really realistic. I'd respectfully disagree really (and that is completely beside the point that I don't think Fiction writers have any responsibility to make their stories "realistic" anyway – isn't that the point of Fiction??).

Life doesn't deal you one bad hand and then immediately send in unicorns and rainbows – so I'd offer the counterpoint that Brown wrote a very realistic Fiction story. Sometimes in life we do get stuck in vicious cycles of negativity and bad events – that is the very nature of life – sh*t happens!

In offering even more support to the continuing drama in Jersey's life, I'd say without it, readers never truly get to know Jersey, her mother, and the other supporting characters. Readers see that Jersey's mom may have not been the perfect persona she'd come to know and love and it shows there are so many sides to every person and occurrence in life. Jersey starts to uncover more of who her mom was in the past which leads her to discoveries within herself as well as others in her life. Without these events the book would definitely be unrealistic – I live in the Midwest – when we get hit with life-altering weather, it isn't followed by years of blissful living, I promise.

Okay, so now that I've gotten that out of the way, let me just say that Jennifer Brown is an amazing writer. A reader can't walk away without feeling connected to her characters or without having felt as if they'd gone through the story themselves. She writes effectively and persuasively! The description of events and people is spot on. The description of the emergency alerts – the sounds and actions – I've seriously been there. When Brown writes about how all those in tornado-ridden areas are used to hearing and seeing the warnings and the alerts, we don't always KNOW exactly what's supposed to happen when it is real because that only happens a small percentage of the time.

I read this book in the thick of Spring in Kansas. To say I was extra jumpy on every dark, gloomy day is not an understatement, and when the weatherman came on with is beautifully colored map indicating the "danger zones", my heart rate increased and I immediately pictured Jersey and her family in my mind!

In my opinion, this is YA fiction at the top of its game and a YA writer at the top of her game. While teenage angst and boyfriend/girlfriend problems are prevalent in the YA world, Brown just proved that life/YA Fiction can be CA-razy, intense, intriguing, and awesome even without that noise!

I was provided with an ARC of this book by the publisher in exchange for an honest review. All thoughts and opinions are my own. I am not compensated for any of my reviews.